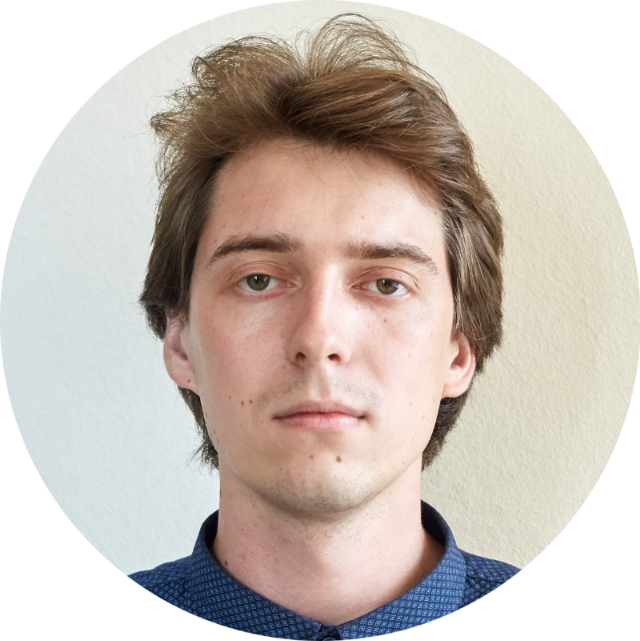 Шаров Владислав Андреевич
CV
Образование
| | |
| --- | --- |
| с 09.2018 | ФГБУ ВО и Н «Санкт-Петербургский национальный исследовательский Академический университет Российской академии наук» (Академический Университет), аспирант, научный руководитель Алексеев П.А. |
| 09.2016–09.2018 | ФГБУ ВО и Н «Санкт-Петербургский национальный исследовательский Академический университет Российской академии наук» (Академический Университет), магистр, специальность «электроника и наноэлектроника». |
| 09.2012–09.2016 | ФГАОУ ВО Санкт-Петербургский политехнический университет Петра Великого, бакалавр, специальность «физика». |
Научная деятельность
| | |
| --- | --- |
| 2018 г. – н.в. | ФГБУ ВО и Н «Санкт-Петербургский национальный исследовательский Академический университет Российской академии наук» (Академический Университет), лаборант лаборатории возобновляемых источников энергии. |
| 2016 г. – н.в. | ФГБУН «Физико-технический институт им. А.Ф. Иоффе Российской академии наук», лаборант лаборатории оптики поверхности |
Стипендии и гранты
:
Стипендия им. А.Ф. Иоффе для студентов, проходящих учебную практику в ФТИ им. Иоффе (2015)
Стипендия Алферовского фонда для студентов (2015)
Многократный исполнитель в Проектах, поддержанных РФФИ
Многократный исполнитель в Проектах, поддержанных РНФ
Участие в конференциях:
Многократный участник всероссийских и международных симпозиумов и конференций, в том числе:
1) Шаров В.А., Михайлов А.О., Дунаевский М.С., Алексеев П.А. // Исследование поглощения лазерного излучения АСМ зондом // ХVIII Всероссийская молодежная конференция по физике полупроводников и наноструктур, полупроводниковой опто — и наноэлектронике (2016).
2) V. Sharov, P. Alekseev // Investigation of the piezoelectric effect in nanowires using AFM // Scanning Probe Microscopy 2017. Abstract Book of International Conference С. 119.
3) Шаров В.А., Алексеев П.А. // Пьезоэлектрические наногенераторы на основе нитевидных нанокристаллов GaAs // ФизикА СПБ 2017, Тезисы докладов С. 313.
Область научных интересов
Атомно-силовая микроскопия, диагностика наноструктур, нитевидные нанокристаллы.
Увлечения
гитара, музыка, активный спорт, путешествия.
Публикации
#2021
#2020
#2019
#2018
#2017